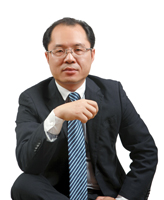 Wang Weidong
Deputy Director of Tenet & Partners Quanzhou Branch; the Management Committee Convener of Tenet & Partners Quanzhou Branch; Partner; Lawyer
Office Location:Quanzhou
Tel:(86) 595 28685021
Email:wangweidong@tenetlaw.com
Practice areas:Real Estate & Construction; Capital market and Finance; Government Legal Service; Company Business; Dispute Resolution
Education:
B.L., Xiamen University of China
LL.M., Law School of Xiamen University of China

Experience:
He has acted for more than one hundred civil and commercial cases in his 20-years lawyer career. He is good at handling the civil and commercial disputes, such as company, finance, contract, guarantee, real estate and demolition. With his rich and unique court experience, he enjoys a high reputation in his clients. His average annual revenue has ranked top in Quanzhou in these years.

Social Positions:
Arbitrator of Xiamen Arbitrators' Committee;
Postgraduate tutor, Huaqiao university
Director of Quanzhou Lawyers Association Company Law Committee
Vice director of Fujian Lawyers Association Company Law Committee
Director of Fujian Lawyers Association Strategic Development Committee

Typical Cases/ Projects:
Provided whole-course legal service for Quanzhou East Urban Area exploration and construction project,
Nan'an Jiangbin (Jam) Green Bank engineering BOT project,
Quanzhou Jianlongting District construction project,
Quanzhou Southern Shaolin scenic spots and the surrounding areas planning exploration and construction project,
Jinjiang Huguang West Road the 1st period demolition reform construction engineering project, Quanzhou Bridge southern part demolition reform project,
Quanzhou Yingbin Hotel, the corporation stock transformation of Quanzhou CHABRIDGE Group Co., Ltd.,
Nan'an Electroplate Centralized Controlling zone BOT project, the 6th National Farmer Sports Meeting Quanzhou Organizing Committee;
Legal consultant of Quanzhou Construction Bureau, Quanzhou Urban and Rural Planning Bureau, Bank of China Co., Ltd., Quanzhou Branch, CITIC Bank Co., Ltd.,
Quanzhou Branch, Quanzhou Property Right Dealing Center, Sunsea (Fujian) Garments Co., Ltd., Fujian Nan'an Guanqiao Grain City, Nan'an Fanhua Investment & Development Co., Ltd.,
Jinjiang Sanyi Iron and Steel Co., Ltd., Fujian Strait Sports Center Co., Ltd., Quanzhou Xinhe Mortgage Co., Ltd.,
Quanzhou Credit Guarantee Co., Ltd., Jinjiang Houcuo Street area reconstruction office;
Developed new non-lawsuit legal service areas of whole-course legal service of real estate exploration, whole-course service of large-sized project engineering construction, whole-course service of governmental areas exploration project, state-owned enterprises, collective-enterprises reform service, whole-course legal service of old city reform, legal service for BOT project, legal service for BT project, legal service for large-sized sports events, enterprise oversea investment legal service, mobile mortgage loan investigation.
In the lawsuit, Lawyer Wanghas a good relationshipwith the local court. He is familiar with the local legal environment and has rich practical experience. And he has outstanding abilityon the direction graspof litigation, litigation prospectjudgments and timely deploymentof various social resourcesaccording to the change of the situation .
Provided or is providing legal services for the following clients:
XPET Investment
Bank of China Quanzhou branch
CITIC Quanzhou branch
Quanzhou Credit Guarantee Corporation and other financial investment institutions
Quanzhou East China Sea Development Co., Ltd. and other Real Estate Company
Quanzhou Construction Bureau
Quanzhou City Planning Bureau
Jinjiang Land Bureau
Jinjiang Law Enforcement Bureau
Quanzhou Pinshang Business Company

Honors and Awards:
the excellent young lawyer of Fujian Province
the excellent lawyer of Fujian Province

Works:
Closest Relationship Principle and Chinese Judicial Practice, published on Journal of Jiangxi Formal University;
Legal Relief of Credit Fraud , published on International Trade Problems;
Legal Problems on Unit Witness, published on China Lawyer;
Brief Discription on Bankrupt Reorganization and Probe on its Practical Problems, which won the second prize of "excellent paper" on the 5th Fujian Lawyer Forum.