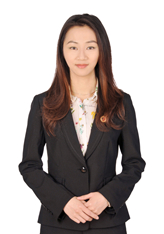 Zhu Yuwen
lawyer
Office Location:Shanghai
Tel:(86) 592 6304546
Email:zhuyuwen@tenetlaw.com
Practice areas:Real Estate & Construction; Capital market & Finance; Company & PE; intellectual property
Education:
LL.B., Law School of Fujian Normal University
LL.M., Law School of Fujian Normal University

Experience:
Lawyer Zhu Yuwen once worked atthe provincial product quality inspection instituteunderFujian Quality Supervision Bureau, then she served in a well-known law firm lawyers, now she is a lawyer od Tenet & Partners

Typical Cases/Projects:
Lawyer Zhu Yuwen is familiar with corporate legal affairs and has some experienceof legal risk prevention, management, audit enterprise contract, enterprise division, merger, guarantee, leasing, transfer of property rights, recruit tender and restructuring, and other major economic activities, she also has some experience in company litigation. LawyerZhu Yuwen's takes dozens of civil and commercial cases every year and is very familiar with the admissibility, the evidence, the trial, the implementation process.
Xiamen Special Economic Zone Real Estate Development Group Co.Ltd.,
Xiamen Seashine GroupCo.Ltd.,
Xiamen Real Estate Co.Ltd.,
Xiamen XGMA Machinery Co.Ltd.,
Xiamen New Technology Integration Co.Ltd.,
Xiamen Talent Service Center,
China National Federation Labor Model Treatment Center, Xiamen Branch
Xiamen CCER Groupco.Ltd.
Xiamen, Heavy Industry Co.Ltd.
Xiamen Hong Wen Residential Development Co.Ltd.
Xiamen Bay Investment Co.Ltd.
Xiamen Real Property Service Co.Ltd.
The Development And Construction Of The New City Of Xiamen Yundang Company,
South Center Investment Group (Xiamen) Co.Ltd.
Xiamen Huilong Group Co.Ltd.
Xiamen Yinju Group Co.Ltd.
Fujian Commercial (Group) Co.Ltd.
Fujian Material (Group) Co.Ltd.
Xiamen Xingruida Automation Equipment Co.Ltd.
Foreign Trade Centre Hotel (Fujian) Co.Ltd.
Fujian Agricultural Group Company
Fuzhou Kaijie Food Development Co.Ltd.
Fujian Yongsheng Decoration Design Engineeringco.Ltd.
Fujian Miki Import & Export Trade Co.Ltd.
Communications industry Service Corporation of Fujian province......

Works:
In April 2013, the discussion on the cultural industry of intellectual property pledge financing -- Comment on Lawyers in intellectual property pledge business "published in" Chinese lawyer ";
In July 2010, "The Legitimacy Of Intellectual Property Law", published in "the full text database of Chinese excellent master's degree thesis";
In October 2008, "the Construction And Deconstruction Of The Poetic Spirit Of The Network Poetry" published in Journal of Hainan University;
In September 2008, "On Building a" Two First Area"Legal Protection And Legislation Framework", published in the Taiwan law research ";
In April 2008, the Taiwan "constitutional reform" -- on the relationship between constitutional rights and constitutional rights as the logical starting point "published in core journals in the Journal of the Beijing University of Posts and telecommunications;
In April 2008, the glimpse of the pawning right system -- to "real estate pledge" appeared as the logical starting point "in the Journal of Guangdong Vocational College of Finance and economics;
2008 - 2009 years, participate in the "Legislative Study On The Peaceful Development Of The Two Sides", "the white paper on the ten year of the rule of law" and the "suggestions on deepening the construction of safe Fujian".