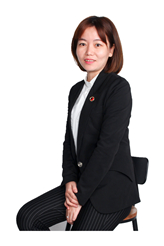 Huang Lin
Lawyer
Office Location:Longyan
Tel:0597-2233280,18005976398
Email:huanglin@tenetlaw.com
Practice areas:Professional field: Company Business, Disputes Resolution, Real Estate & Construction
Education:
Graduated from Peking University.

Experience:
2009 – 2013, Longyan Xinluo district people's court second chamber clerk

Typical cases/projects:
Longyan Huijin Asset Management Co., Ltd, because Mrs. Huang is currently managing the company's municipal assets, she deals a range of arising issues of relevant assets during the rental for the company.
Longyan City Development Group Co., Ltd, real estate development projects related disputes resolution.
Commercial litigation, the enforcement branch agent.