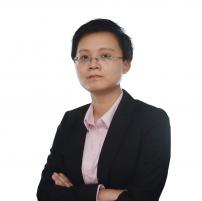 Shi Yingyi
Lawyer
Office Location:Fuzhou
Tel:(86) 591 83810319
Email:shiyingyi@tenetlaw.com
Practice areas:Capital market & Finance;Real Estate & Construction; Company Business; Dispute Resolution
Education:
LL.B., Law School of Fuzhou University
Master of civil and commercial law in China University of political science and law (in reading).

Experience:
Worked in Fujian HELun law firm,
Joined Tenet & Partners (Fuzhou) in June 2015

Typical Cases/Projects:
Xiamen Zhongda Iron and Steel Co.Ltd.;
Xiamen Xin Click Network Technologies Inc;
Fujian Hengye Industry (Group);
China Postal Savings Bank Co.Ltd. Fuzhou Branch;
China Construction Bank Co.Ltd. Longyan Branch;
......