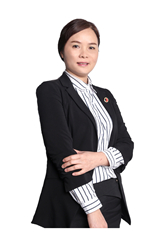 Ni ShuPing
Partner, Lawyer
Office Location:Longyan
Tel:(86) 13599338335
Email:nishuping@tenetlaw.com
Practice areas:Professional field:Insurance of Civil &Commercial Finance; Criminal Affairs; Corporation
Education:
LL.B., Law School of Peking University.

Experiences:
Ni Shuping used to work in the legal claims department of Longyan Branch of PICC P & C Co. Ltd., and accumulated legal affairs experience specializing in insurance contracts and claims settlement disputes. Ni joined Tenet (Longyan) in 2008.

Typical Cases/Projects:
Ni Shuping has been specializing in insurance of civil &commercial finance, criminal and corporate legal affairs, etc. with rich experience in insurance indemnity, civil & commercial, criminal affairs. Ni has strong responsibility, pays attention to details, can provide overall legal strategy, so has gained the clients' deep trust.