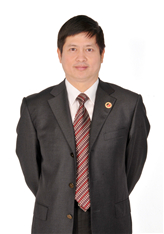 Chen Chuan
Director of Maritime Law Department; Supervisory Committee Convener; Partner; Lawyer
Office Location:Xiamen
Tel:(86)592 2956390
Email:chenchuan@tenetlaw.com
Practice areas:Maritime law; Supply Chain finance; International Trade;Insurance law, Free Trade Zone and foreign-related legal affairs
Education:
B.S., Peking University
JM, XiamenUniversity

Experience:
Before he became a practising lawyer in 2000, Chen Chuan had been working in non-legal fields for more than ten years, as chemical technician, production manager and trade manager. Graduated from Beijing University with major in Chemistry in 1990, Chen started his career in a chemical plant, and then was engaged in international business in an import & export trade company. Chen was the deputy executive manager of this company when he participated in legal proceedings to claim against a shipping company as well as an insurance company for the huge loss occurred in a vessel of imported cargo arisen by sea accident. Chen, on behalf of his company, won this 3-years-long lawsuit and finally decided to be an attorney. During his legal practice, Chen received his Master Degree in Law from Xiamen University in year 2007. Chen used to be a partner of JC Law Firm and joined Tenet & Partners in October 2011. Now he is the director of Maritime law department; and the member of Management Committee.

Social Position:
Arbitrator of Xiamen Arbitration Commission,
Mediator of China International Trade Promotion Committee / China International Chamber of Commerce Xiamen Mediating Center
Typical cases/projects:
A series of cases concerned compensation disputes arisen by Sinking of Vessel "Huadingshan", in these lawsuits the Limitation of Liability for Maritime Claim was for the first time broken in China;
Representing Jiangsu PICC in defense against Coca-Cola, successfully break the long-lasting trend of the insurer's inability to deny claim from the insured with huge insurance bill;
Representing an international trade company to exempt from paying under a letter of credit by claiming L/C fraud, and won this lawsuit so that saved a huge loss of foreign currency for this company.
……

Honors & Awards:
Won the top 1 prize on the third Strait lawyers Forum (Zhanghua, Taiwan)

Works:
"Endless Final appeal, how to continue life? -- the legal consideration and suggestion of law amendment on the right of final appeal ", published in " Chinese Lawyers " 2002(11), won the outstanding paper award of the Xiamen law practice seminar;
"New types of disputes in foreign economic and trade enterprises under the financial crisis" was published in the Xiamen international trade 2009(2);
"The prospects for cooperation of cross-strait lawyers in the maritime field" attend the first session of the Straits forum lawyer (Xiamen);
"The role of lawyers on the construction of cross-strait economic and trade in the supply chain"won the first prize in the third strait lawers (Zhanghua, Taiwan) forum, published in" Chinese Lawyer "2013 (7).