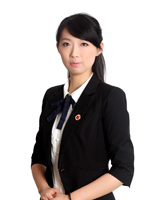 Liu Xiaoye
Lawyer
Office Location:Quanzhou
Tel:(86) 595 28685077
Email:liuxiaoye@tenetlaw.com
Practice areas:Real Estate & Construction; Capital market & Finance; Company & PE
Education:
LL.B., Law School of Qiingdao University
LL.M., Law School of Huaqiao University

Experience:
Joined Tenet & Partners (Quanzhou) in 2012

Typical Cases/Projects:
LawyerLiu Xiaoye sticks to diligent, rigorous practice attitude, and strives to provide clients with high-quality legal services. She accumulates practical experiencein the company law, security law, contract law and other fields .
Have been or are providing legal services for the following:
Bank Of China Quanzhou Branch
CITIC Bank Quanzhou Branch
Quanzhou Finance GuaranteeCo.Ltd.
Quanzhou Xinhe Pawn Co.Ltd.
Shishi Fuguiniao Group Co.Ltd.
Quanzhou East See Development Co.Ltd.
Shishi Fuyin Small Loan Co.Ltd.
Jinjiang Land Bureau
......