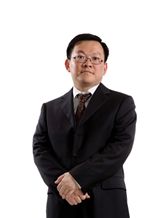 Bai Shaoxiang
Partner; Lawyer
Office Location:Xiamen
Tel:(86) 592 6304506
Email:baishaoxiang@tenetlaw.com
Practice areas: Capital market and Finance; Mergers and Acquisitions; PE and Investment funds; Family and Wealth inheritance
Education:
LL.B., Law School of Xiamen University
J.M., Law School of Xiamen University, Majored in International Economic Law

Experience:
Started his legal career from 1994, he has accumulated rich experience of over 20 years professional practice, and become a senior commercial lawyer in Tenet & Partners. Meanwhile,Mr. Bai is an expert in management as the executive director. Tenet& Partners, which has been managed by him, ranked its revenue in the first place in Fujian province and Tenet & Partners was awarded by Asian Legal Business as ALB China Fast 10 and was selected into Top 30 largest law firm in China in 2013.

Social Position:
Independent Director, Xiamen Tsann Kuen (China) enterprise co.ltd.
Arbitrator, Xiamen Arbitration Commission
Postgraduate Tutor, Law School of Xiamen University
Associate Professor, Jiageng School of Xiamen University
Secretary-general of CMAA Fujian branch

Typical Cases/ Projects:
Lawyer Bai is familiar with commercial business, such as company, PE, M&A and capital market. His famous case is Nestlé's acquisition of Yinlu Food Group shares, which is the biggest M&A case in food and beverage industry of China in 2011. Also, he respectively assisted Xiamen Dazhou Group and Fujian Fengqi Investment accomplish the hostile acquisition of ST Industrial Co. and Fujian Dongbai (Group) Co., Ltd. He is one of the veterans in hostile acquisition of China A-share market. Since the first day he carried on this occupation, Lawyer Bai has taken the safeguard of the interests of clients all the time, serviced as perennial legal counsel for several enterprises and dealt with various kinds of cases.

Provided or is providing legal services for the following clients:
Septwolves HoldingGroup;
Yinlu Group,Xiamen;
Dazhouxingye HoldingCo., Ltd;
Fujian Zhonglian Real Estate Group
CyglassesCo., Ltd;
………

Works
In 1993, his Review and Restructure On Chinese Legal System of Enterprises got the 1st prize in the selection of excellent papers held by the Law Department, Xiamen University.
In 1999, his How Should a Lawyer Participate in the Operation Of Housing Mortgage Loan got the Excellent Paper Awards on the Papers Seminar of Fujian Lawyers' Association;
In 2000, his Prospects and Obstructions of Chinese Financial leasing got the Excellent Paper Awards on the Papers Seminar of Fujian Lawyers' Association;
In 2006, his Research on the Legal Effect of Illegal Contract got the Excellent Paper Awards in the Papers Seminar of the Six Provinces and One City in Eastern China.