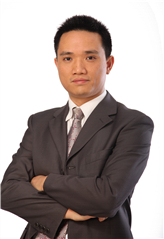 Wu Xinxuan
Partner; Lawyer
Office Location:Xiamen
Tel:(86) 592 6304535; (86) 18606099797
Email:wuxinxuan@tenetlaw.com
Practice areas:capital markets & finance, mergers &acquisitions, company& PE
Education:
LL.B., Law School of Xiamen University
J.M., Law School of Xiamen University

Experience:
Joined Hengfeng law firm as a lawyerin 1999, and became a lawyer in Tenet & Partners in 2001. Now he is a lawyer and partner.

Typical cases/projects:
1. perennial legal consultancy services
Act as a legal counsel ofTefang Real Estate Development Enterprises, SM Commercial City, Ding Kun Group;
Provide full legal service forInternet companies, such as Flying Fish Technology (Hong Kong Listed Companies), Charen Ridge Co. Ltd;
Provide full legal service for the eastern PacificCo. Ltd, tLong Fu Group investment Co. Ltd. etc.;
Provide full legal service for chain enterprises, such as Love learning children's products, inner beauty clothing Co. Ltd. etc.
2. Legal services on enterprise merger and acquisition
Providespecial legal services for the Taiwan and Xiamen three listing Corporation 's acquisition of Anhui ** Group subsidiary enterprise;
Provide full legal service forYundang companytransferring property right of Xi'an Wenbo Real estate Development Co. Ltd. ;
Provide full legal services for tefang Group's acquisition of Jindi group "Zhongzhou Binhai city" project;
Provide full legal services for tefang Group's acquisition of Tianjin Zhong'ao Royal Yacht cityproject;
Provide full legal services for Singapore investors transfer of domestic enterprises and real estate projects.
3. syndicated loan legal services
Provide full legal service for the 88.53 billion syndicated loan, 74.75 million of liquidity syndicated loan of the Tenglong aromatics (Zhangzhou) Co., Ltd. PX project;
Provide full legal service for "opened the X2009G05 plots - first opened. Lingxiang international" 12 billion RMBsyndicated loan project of Xiang Tai Property Co., Ltd.;
provide full legal services for 42 billion RMB G5.5 project , 60 billion RMB G6syndicated loan project of Xiamen Tianma Microelectronics Co., Ltd. ,which jointly led by Agricultural Bank Of China, Import And Export Bank, The National Development Bank;
Providing full legal services for Xiamen Baolong International Center 11 billion syndicated loan of Xiamen Baolong Industrial Co., Ltd. ,which led by Bank of communications;
4. major difficult litigation cases
Represent**Company as the third party, contributed to a bank mortgage contract dispute case for retrial, promote the final confirmation that bank's mortgage is not established, recover two sets of villasfor clients.This case, which is the first one to make the cognizance of housing mortgages notice registration effectin Fujian, has extensive influence.
Represent auction bidder**Company , excluding false lease contract interference, receives the land successfully, make the investment project developing smoothly;
Represent alender of stock accounts and capitals to sue the borrower, making the court confirm it is an actual private lending relationship and restore the huge economic losses for client;
Represent a divorcedclient, excluding the property seizures applied by the creditors of the former spouse, and recover huge economic losses for clients;
Represent a company's shareholder, properly deal with the requirements ofthe company's creditors that he bearing the supplementary liability of the capital contribution;
Represent**Company to sue** Bank unauthorizeddeduction of the millions of dollars of the company, and ultimately properly resolve disputes and recover the loss of clients.